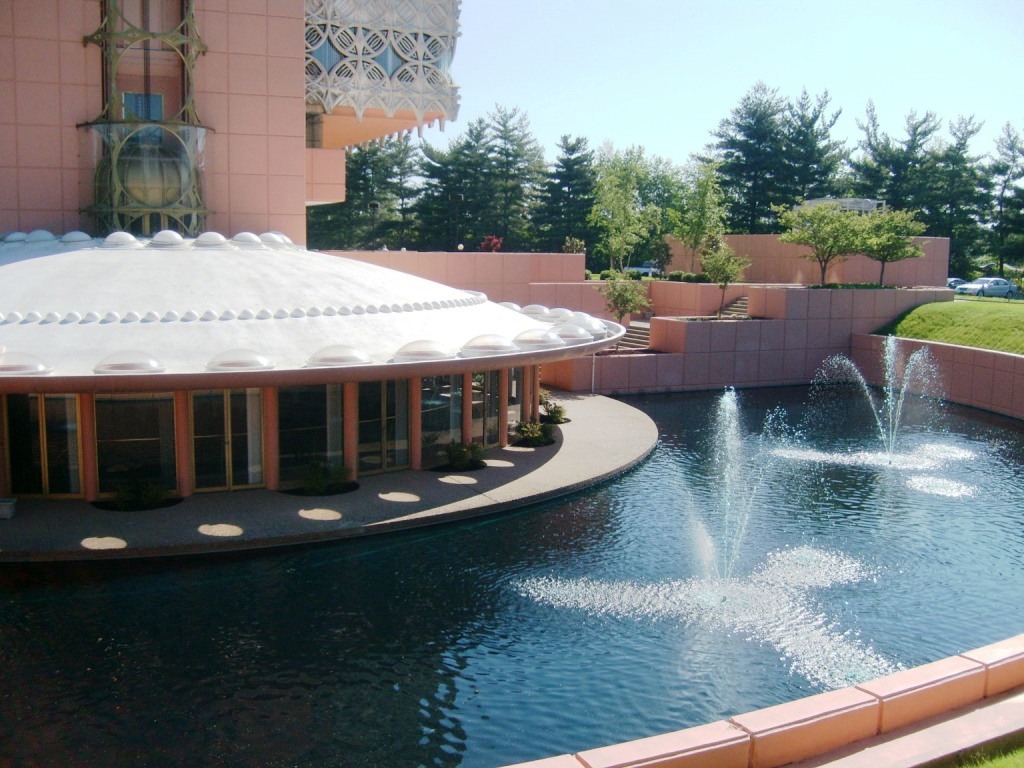 The Kaden Tower Civic Center, located at 6100 Dutchmans Lane, offers a perfect, up-scale, unique location for your wedding, party, or office meeting. Typical of the Frank Lloyd Wright design of the building, the room is circular with floor to ceiling glass overlooking a pool with three fountains. This room also contains a stage with a dance floor and pull-down projection screen, which is ideal for any type of entertainment you may desire.
The pool, which circles around the outside of the Civic Center, is full and running year-round and provides a romantic backdrop to the room. This area is extremely versatile and can be quite breathtaking in the evening hours.
The room holds 150 people. We have 17 60in round tables, 8 round cocktail tables, 10 6ft long banquet tables, and 150 black chairs available for you to use. Private restrooms, lobby, coat room, kitchen and private entrance add the finishing touches to this truly unique room which is only limited by one's imagination.
RENTAL RATES:
❖ $1,500.00 (Plus $400.00 REFUNDABLE DEPOSIT) ALL DAY RATE
Hours are from 9:00 a.m. - Midnight (All Tables and Chairs Included)
❖ $800.00 (Plus $350.00 REFUNDABLE DEPOSIT) 8 HOUR RATE
(All Tables and Chairs Included)
❖ $100.00 PER HOUR (Plus 50% REFUNDABLE DEPOSIT up to $350)
HOURLY RATES ONLY AVAILABLE MONDAY - THURSDAY
For Reservations and Information email acoons@naifortis.com.
Prices subject to change without notice.
Open alcohol & catering policies

Capacity of 150 seated

Tables and chairs available

Warming kitchen

Large coat room

Private entrance

Stage for entertainment

Free Parking

Easy access to expressways

10 minutes to/from airport

10 minutes to/from downtown